Our team includes electric vehicle experts from across the state of Washington totaling decades of experience with electric vehicles, charging infrastructure, policy, energy, outreach and education.
Board of Directors:
Andrea Tousignant, Drive Electric WA Board President 2023
Andrea Tousignant runs a consulting firm, Ions Consulting, LLC  whose mission is to provide multi-level solutions in response to a need to develop an accessible and equitable EV charging infrastructure. Andrea also provides consulting work for state agencies, and her combination of experience with non-profit management, organizational development, board political advocacy and parks and open space allows her to offer expertise in communication and collaboration as part of public outreach campaigns, increasing diversity and influence in the Washington. Currently working as a consultant to the Green Transportation Program lead by WSU Energy offering Technical Assistance to public fleets.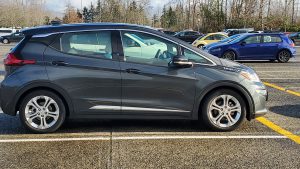 Steven Lough – Treasurer
Steven Lough has been a leader in local efforts to popularize Electric Vehicles since 1980. He joined the Seattle Electric Vehicle Association in 1981 and was their President until 2013. SEVA is the second largest Electric Auto Association chapter in the U.S. largely due to his efforts to Educate, Demonstrate, and Proliferate EV's of all types and kinds. It has been his life's work. His work has given him recognition from three of the last five Mayors of Seattle, and a Lifetime Achievement award from the National Electric Auto Association.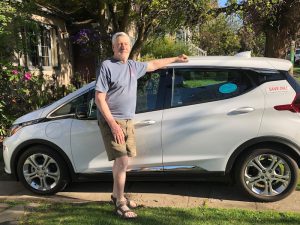 Jon Jantz- Board Member, Secretary

 (BIO)
Peter Moulton- Board Member
 (BIO)
Advisory Council
Brian Henderson – Seattle Electric Vehicle Association
Chad Schwitters – Former Board Member, 2022 EV Advocate
Garrett Brown – Mid Columbia Electric Vehicle Association
Grace Reamer – Former Board Member, Newsletter, 2022
Heather Pauley – Kitsap Public Utility District
Jay Donnaway – Seattle Electric Vehicle Association
Jeff Finn – Plug In America
Jeff Randall – Jefferson Public Utility District
Jeff Miller – EVperks.com
Jennifer Harper -Former Board President 2022, Energy Northwest
Mark Schiller –Seattle Electric Vehicle Association
Matthew Metz -Former Board President 2022, Coltura
Peter Moulton – 2022 EV Advocate
Philip Skoog – Seattle Electric Vehicle Association
Randy Brooks – Plug In North Central Washington
Steven Lough – Seattle Electric Vehicle Association
Thad Curtz – Electrify Thurston
Tom Saxton -Former Board Member, 2022 Tesla Owners
Many thanks to our retired Board President, Ron Johnston-Rodriguez for his many years of dedication!
Ron organized a broad-based coalition to advance the prospects for transportation electrification in rural and urban regions of Washington in 2005. Activities included educating municipal, state, and business leaders about the emergence of highway-capable EVs and EV readiness; vehicle conversions (ICEs into PHEVs) for a dozen fleets to participate in a EV research project with US DOE / Idaho National Lab; producing the first transportation electrification conferences in the Northwest (Power-Up Summits); and assisting the legislature in development of the first RCW to support vehicle electrification efforts in Washington.
In 2011 he founded Plug-In North Central Washington to develop and promote vehicle electrification and EV tourism for that 3-county region and led the organization's launch of the USA's first 'Electric-Vehicle Friendly' National Scenic Byway (Stevens Pass Greenway) and electrification of Washington's 440+ mile Cascade Loop Scenic Drive (2014) – earning its distinction as the longest EV-friendly scenic drive in the USA.